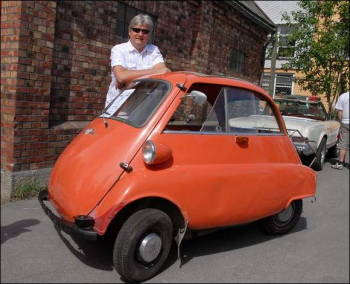 BMW Isetta 300 - 1959
The Isetta is an Italian-designed microcar built under license in a number of different countries, including Spain, Belgium, France, Brazil, Germany, and the United Kingdom. Because of its egg shape and bubble-like windows, it became known as a bubble car, a name later given to other similar vehicles. In 1955, the BMW Isetta became the world's first mass-production car to achieve a fuel consumption of 3 L/100 km (94 mpg-imp; 78 mpg-US). It was the top-selling single-cylinder car in the world, with 161,728 units sold. Initially manufactured by the Italian firm Iso SpA, the name Isetta is the Italian diminutive form of ISO, meaning little ISO.
The car originated with the Italian firm of Iso SpA. In the early 1950s the company was building refrigerators, motor scooters and small three-wheeled trucks. Iso's owner, Renzo Rivolta, decided he would like to build a small car for mass distribution.
As earlier written, the more weird the more fun! I have a special fondness for the minicars of the late fifties. Some of them are so cute that you even want to give them a hug!
The image to the left shows me and the last addition to the family. A 1959 Isetta 300. This Isetta has local history and I have known about it for almost 20 years. And after many many years of waiting, thinking about it each time I passed the house, I was at last allowed to buy it. And good care it will get, the hunt for spares have started, and there is plans to restore it mechanically before new paint. The little car is very complete and in a very good nick. There is some rust, and there is parts to replace, but still very complete and even almost nice inside.
Isettas offer a more comfortable ride than Heinkels. And even if they look the same and was competitors in their days, these cars are very much different. The Heinkel has a monocoque body with no frame and has the Heinkel Scooter motor, the Isetta has a small tubular frame with a BMW stationary engine mounted. Both cars are 4 stroke engines. And were both delivered with 250 and 300 ccm one cylinder. The Isetta is a tad shorter, so you can actually park it sideways with the front door opening towards the sidewalk. The Heinkel registered for 4 people was to long for that.
Isettas are usually no racers, but you can race them if you put a hayabusa engine in them: Isetta on Steroids (very very loco man driving this one I think...)
And you also find the Isettas used in Commercials, for example in this McDonald's BMW Isetta Shake Shake MC or this Milestone Isetta video